Microdermabrasion
Is your skin sensitive to chemicals but you are looking for a safe and mild treatment to get youthful and radiant skin? Then Microdermabrasion is the best alternative to other treatments like chemical peels for skin rejuvenation!
What is Microdermabrasion?
Microdermabrasion is a machine-assisted skin resurfacing treatment that exfoliates the skin in a controlled and safe manner. It is a non-invasive treatment to remove the outer layers of skin, containing damaged and dead skin cells, with the help of a stream of non-allergenic microcrystals. The treatment reveals a uniform, youthful and healthier skin with increased production of collagen and elastin that continue to enhance the beauty of your skin even afterwards. It is helpful in getting rid of age signs like wrinkles, spots and fine lines and it is an effective treatment for acne and acne scars as well. It is a relatively mild treatment to dermabrasion or laser skin resurfacing.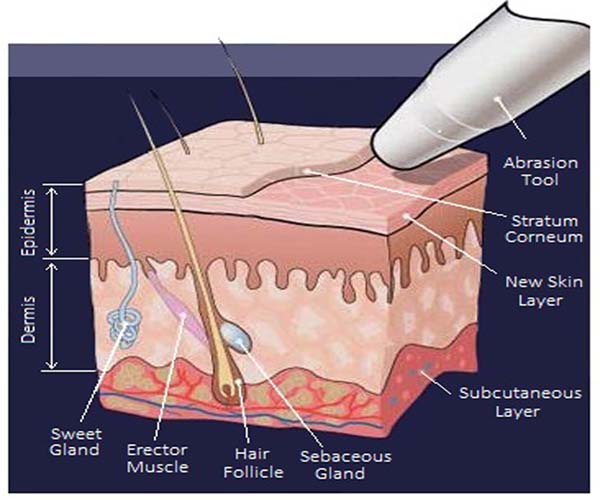 Benefits of Microdermabrasion
It is one of the most commonly performed cosmetic treatments and provides a wide range of benefits. One significant benefit of the treatment that increases its popularity is its being so convenient and less time taking. Microdermabrasion is sometimes called as "lunchtime facial" referring to its mild and quick procedure with no downtime. Also, the treatment is non-invasive and virtually pain-free. Other benefits include:
Restoration of youthful skin glow

Improvement of open or clogged pores

Reduction of early signs of aging

Enhanced collagen and elastin production

Treatment for oily or dull skin

Fades away fine lines, wrinkles and spots

Effective in dealing with mild acne and acne scars

Enhanced blood circulation

Promotes internal health of skin

Natural skin repairing and nourishing

Resolves out pigmentation problems

Improved skin tone and texture

Noticeably smoother and cleaner skin

Treatment for sun damaged skin

Increased metabolism of skin
Microdermabrasion vs Dermabrasion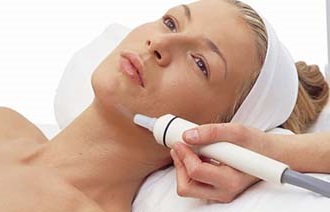 Microdermabrasion shouldn't be confused with dermabrasion which is an invasive method to deal more serious problems. Microdermabrasion is a mild treatment with nearly no pain or downtime. It doesn't need anesthetics as in dermabrasion which is painful and can't be bear without anesthesia, with a greater recovery time afterwards. But yes the results are also accordingly, microdermabrasion is meant for mild skin treatments while for deeper skin rejuvenation, dermabrasion is preferable. If you have mild scars, pigmentation and aging signs, go for microdermabrasion. But if you want a treatment for deep acne and acne scars, birthmarks, stretch marks, scars as a result of accident, disease or burn, congenital skin defects or other serious problems, dermabrasion is the solution.
Keep in mind that microdermabrasion is suitable for all skin types while dermabrasion is usually only safe for people with fair skin and can result in pigmentation or scarring on darker skin types. The risks as well as benefits, both are high in case of dermabrasion.
Risks with Microdermabrasion
In general, microdermabrasion is a very safe method including little or no complications. The method itself is safe and carries nearly no risks but risks are associated with the way microdermabrasion is performed. There are risks only when the treatment is not carried out properly or done by a non-specialist person. The possible risks include: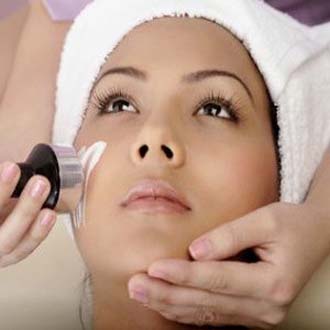 Infection, in case of non-sterilized or non-sanitized apparatus

Using machine at high intensity may lead to skin damage

In worst case, the fine crystals may accidentally enter a patient's eye causing irritation or redness of eye

The crystals used in the treatment are very fine and non-allergenic and usually safe for all skin types except for extra sensitive skin which may face slight redness.

Otherwise the treatment is quite simple and mild including no major problems if carried out properly. The short-term, rare and slight after-effects that people with sensitive skin may face include:
• Skin tightness
• Slight redness
• Minor bruising
• Small blood spots
• Broken blood vessels
• Eye-skin bruising (in case of aspirin or other blood thinners)
These side effects are extremely rare and become even lesser likely to occur when you get your treatment from specialized dermatologists. We hereby offer you a safe session with our expert team of dermatologists at Dr. A.K.'s cosmetic surgery. Give it a try and witness the results yourself!